When shopping for a new or used forklift, you may come across the term "Tier 4". Tier 4 is a reference to a program started by the United States Environmental Protection Agency (EPA) to produce fewer emissions. But what makes a forklift engine a Tier 4 compliant engine and what impact will it have on lift truck performance?
What is Tier 4?
Tier 4 emissions standards are a set of regulations introduced by the EPA for off-highway diesel engines. A Tier 4 engine is an engine in a forklift or other heavy machinery such as tractors and excavators that meet the EPA standards. Tier 4 was designed to decrease emissions and essentially bring off-highway equipment up to the same standards as highway trucks and buses. The Tier 4 regulations had two rollouts, with the first regulations impacting 130-560kw diesel engines and then a year later impacting 56-129kw diesel engines.


The Tier 4 standards were the fourth step in a tiered rollout of emissions regulations enacted by the EPA since 1988. Each tier was phased in by horsepower rating over several years. The table below demonstrates the timeline of emission standards for carbon dioxide, nitrogen oxide, non-methane hydrocarbon, and particulate matter (carbon soot and other combustion byproducts). The Tier 4 finalized regulations result in a 90% NOx and 90% particulate matter (PM) reduction compared with the Tier 3 standard.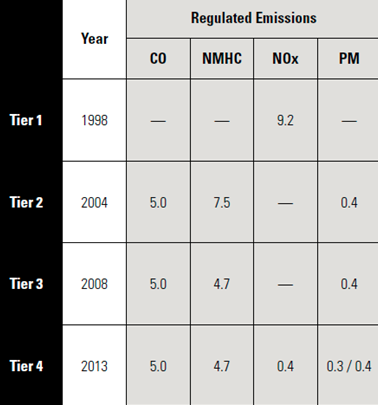 What Does Tier 4 Mean For Your Business?
The EPA's job is to protect the environment, but companies in need of logistics and material handling solutions are understandably concerned about performance. Any new forklift purchased or manufactured after January 1, 2013 is required to meet Tier 4 standards. And while manufacturers were all required to meet these standards; they also had to find new ways to provide value to their customers.
How manufacturers meet Tier 4 emissions standards
There are various systems and technologies in place that help to meet the emissions requirements. One or any combination of the methods listed below can be used to ensure Tier 4 regulations are met:
Diesel Particulate Filters (DPF): These filters are designed to trap particulate matter from the exhaust stream of diesel engines and prevent matter from being released into the atmosphere.
Selective Catalyst Reduction (SCR) Systems: SCR systems provide an effective engine emissions NOx reduction technology, which usually features a catalyst in the form of a urea system to further help clean the emissions.
Diesel Oxidation Catalysts (DOC): DOC use an oxidation process to convert certain emissions in the diesel engine exhaust into unregulated emissions.
Turbochargers: These are often used to increase power and reduce engine size to influence the amount of emissions.
The benefits of Tier 4 engines
While many businesses expect high upfront costs in converting their fleets to Tier 4 diesel forklifts, our tier 4 forklifts with Perkins 854F 3.4L turbo-charged four-cylinder engines have many benefits that help offset the initial upfront costs. These benefits include:
18% greater fuel efficiency
Fuel saver mode – lowering fuel consumption by up to 14% while maintaining up to 95% of overall productivity
Increased uptime
Reduced maintenance time
Finding the right lift truck solution
Over the past few decades, there have been significant advancements in engine technology for lift trucks and other heavy machinery. The Tier 4 emissions standards made many organizations re-evaluate what technology provided the best solution for their needs. This led to businesses evaluating all of their forklift options, including the full range of fuel sources which includes electric, LP, gas, and diesel. In certain applications, the use of electric forklifts have proven to be equal in performance to internal combustion forklifts, but factors such as capacity, application type, etc., are important parts of the initial lift truck evaluation process.
If you have questions about Tier 4 emissions standards or finding the right forklift for your business, contact your local forklift dealer. They will help determine the best solution for you based on your business needs, environment and required lift capacities.
Additional Tier 4 Related Resources:
Additional Resources