We're The Intralogistics Pioneers
Keeping pace with the increasingly complex challenges of intralogistics requires strategic foresight and the courage to think about tomorrow today. Jungheinrich's tireless pioneer spirit has produced innovative and sustainable intralogistics solutions for almost 70 years.

It is in our DNA to constantly question the status quo. What will the warehouse of the future look like? How can we help you achieve your economic goals? How can we reduce emissions to an absolute minimum? If you're looking for answers, you've come to the right place.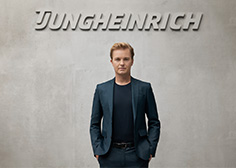 Make the Most of Your Warehouse.
Game-changing intralogistics solutions.
Presented by Nico Rosberg.
State-of-the-art technologies, automated processes, digital applications and integrated system solutions, all maximize your business efficiency and sustainability for the future. Take a closer look at Jungheinrich's forward-thinking intralogistics solutions now.