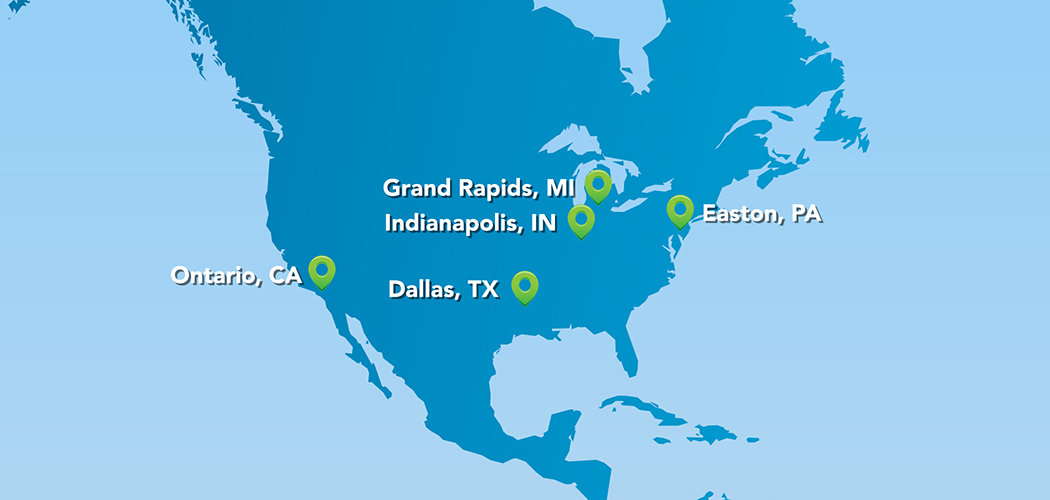 HOUSTON (April 3, 2018) – Mitsubishi Caterpillar Forklift America Inc., a leading manufacturer of forklifts under the Cat® lift trucks, Mitsubishi forklift trucks and Jungheinrich® brands, announced today that it has expanded its forklift parts facility footprint to include a new regional distribution center in Dallas, Texas. With this recent expansion, MCFA now stocks almost $60 million in total parts inventory at five regional parts facilities across the United States.
"We're committed to providing our customers with quick and easy access to forklift parts when and where they need them," said Jerry Sytsma, director of Parts and Solutions- MCFA and President of Rapidparts Inc., an MCFA wholly-owned subsidiary. "This expansion further reinforces our commitment to our customers by expanding our ability to provide next-day ground service parts throughout North America."
MCFA's new Dallas facility has more than 18,000 lift truck part SKUs on hand, including OEM parts for Cat lift trucks, Jungheinrich and Mitsubishi forklift trucks, in addition to over 7,200 parts for non-MCFAforklift trucks.
"We understand the cost and time implications that occur when equipment is down," added Sytsma. "We listened to our customers and knew we had to provide a larger network that is poised to deliver solutions to them quickly."
MCFA maintains a 98 percent same-day parts availability and offers a "Parts Fast or Parts Free Guarantee" throughout the United States. The guarantee ensures next-day delivery of parts, or they are free.
With this expansion, MCFA now operates five regional parts facilities in the United States. Other locations include Easton, Pennsylvania, Ontario, California, Grand Rapids, Michigan, and Indianapolis, Indiana.
The Dallas facility is fully staffed and ready to support customers. To learn more about MCFA's aftermarket support services, please visit https://www.logisnextamericas.com/en/Logisnext/forklift-solutions/parts-service.
###

About Mitsubishi Caterpillar Forklift America Inc
Manufacturer of High-Quality Material Handling Equipment
Mitsubishi Caterpillar Forklift America Inc. is a leading manufacturer of high-quality forklifts and warehouse products in North, Central and South America and the Caribbean. Based in Houston, Texas, the company distributes three distinct brands – Mitsubishi forklift trucks, Cat® lift trucks and Jungheinrich® warehouse products – through its extensive dealer network. All products are backed by industry-leading customer service and superior product support. For more information about MCFA or any of its brands, visit Mitsubishi Caterpillar Forklift America, Cat Lift Trucks, Mitsubishi Forklift Trucks or Jungheinrich Forklifts.
About Rapidparts Inc. (Rapidparts)
Rapidparts is a wholly-owned subsidiary of MCFA. The company supplies Cat® lift trucks, Mitsubishi forklift trucks and Jungheinrich® dealers and their customers with quality forklift replacement parts, regardless of make or model. Our unwavering commitment to advancement means we are constantly looking for ways to improve our parts' solutions.