Efficient warehouses lead to happy customers - it's that simple. Read on to discover the top 3 tips to improve your warehouse's overall efficiency and the speed and accuracy of your business' shipments.
Challenges To Creating An Efficient Warehouse
Several years ago, Jungheinrich co-sponsored research along with the Warehouse Education Research Council, of more than 600 companies, on the impact order picking had on their warehouse operations. The findings were eye opening:
Almost 70% of their activity was in the handling of less than full pallets, meaning they were picking full cases and/or broken cases a large percentage of the time.
More than 65% of the total cost of managing their operations was directly related to order picking; in large part due to the size of their fleets, and the labor to operate this fleet.

The increase, or "explosion" of SKUs, along with the greater demand for variations of quantities and sizes of products, has led customers to more and more alternative order picking models. Companies are operating from both low level and high level, using both low level and high level order pickers for case and piece picking and turret trucks for full pallet picking and putaways.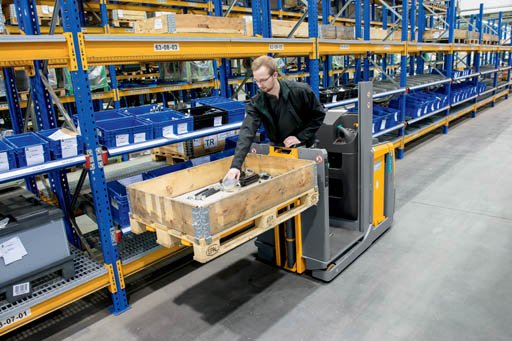 With the growth in SKU's comes the added challenge of having enough storage locations, or slots, in the warehouse or distribution center. This can lead to greater storage density and the need for more productive, efficient, innovative and less costly solutions to the order picking processes.
How do you manage warehouse efficiency?
Many warehouse managers are tasked with trying to answer the question, "How can I make my warehouse more efficient?" Ultimately, there are three basic strategies for driving warehouse efficiency and picking productivity in this age of rapidly increasing SKUs.
Choose the right type of equipment to improve order picking and enhance the efficiency of the warehouse operations.
Implement best picking practices, such as:
Effective product slotting via slotting software and inventory management systems
Moving away from "paper" picking
Utilizing proper storage systems (flow systems for high pallet count SKUs that maximize density).
Evaluate new technologies, such as semi-automation forklifts, for improved productivity
Choosing The Right Equipment For Your Warehouse

Warehouse products, or the types of forklifts used for order picking, can have a large impact on a warehouse's productivity. Factors such as type of order picker, types of walkies or lift trucks used, along with the right mix of equipment, can either improve or impede a customer's efficiency, productivity and accuracy.
While electric pallet trucks or sit-down counterbalanced forklifts may be the traditional type of equipment used, you can also consider the following equipment options depending on the type of picking to be done:
Low- or high-level order pickers: Case/piece picking and cycle counting
Turret trucks: Full pallet picking, putaways and replenishment
These forklifts also offer unique technologies to further generate improvements in productivity and efficiency. This allows your operation to do more in less time while reducing fleet size and addressing storage space concerns.
Invest in New Technologies
Improve order picking productivity by considering if new technologies for your warehouse, such as forklift semi-automation, are a fit for your operation.
What Is Semi-Automation?
Once the lift truck enters the very narrow aisle rack system, the navigation system takes over the operation of the truck to pick the right pallet from the right location.
The driver doesn't have to search for the pick location or level for the pallet, but they are still in place in case any manual adjustments need to be made. Throughout the process, the system feeds information back to the WMS for reporting and analysis.
Semi-Automation of Warehouse Products
With forklift semi-automation, processes once handled by the lift truck operator, even with an operator still on board, are performed by the forklift. When a warehouse management system (WMS) sends an order to the lift truck for picking or putaway, the on-board navigation system determines the best path for travel.
What Are The Benefits?
Increased productivity - up to 25%
Improved flexibility with logistics performance
Reduced fleet and labor
Optimized order picking and stacking accuracy
What Products Are Used With Semi-Automation?
These new advances in lift truck technologies mean new solutions for warehouse managers today – in addition to new opportunities for greater gains in warehouse efficiency and productivity. Since each application varies, warehouse managers should consult with their local lift truck dealer or trained warehouse product consultant to evaluate the best solution for their specific application's needs.
Decrease Downtime
Product innovation is also providing new opportunities for warehouse efficiency by decreasing downtime. One example is Jungheinrich's "2 Shift, 1 Charge Guarantee". The extended run times of these products offer some very clear warehouse efficiency and productivity:
Guaranteed to run 16 hours on a single battery charge
No interim charging
No battery changing
No additional charging equipment needed
Jungheinrich offers a 7-day demo challenge for customers to judge for themselves. Learn more here.
An Investment In The Future
Whether it's an investment in new order picking technology, utilizing more efficient equipment, or optimizing your order picking processes to increase productivity, there are many ways to run a warehouse more efficiently. With the ever increasing demands and needs of customers, making sound decisions and investments in warehouse productivity will be a key to staying competitive.
Additional Resources